Evening Events
From Monday to Thursday we have organised an array of amazing cultural events. Entry is included in the full IF price, but if you can't make it the whole Forum, you are more than welcome to join us for the evening events in the Kulturhuset!
Apart from the awesome bands bellow, we have other bands joining the line-up and a variety of DJs who will supply tunes into the night.
Tickets are available at the door for 100 SEK each. It is possible to pay with Izetel, Swish, credit card or cash.
---
Vulvanas (Sweden)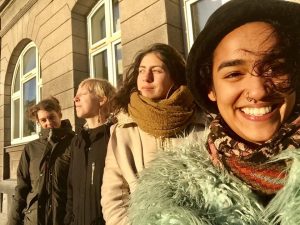 Monday April 10, 21:00 – 21:45
Vulvanas stands for the power of the V, the source of life and power of women mystery. The four female members of the band preform together to strengthen the bond between women and encourage sisterhood. They rap and sing about life, and everything that comes with it. All feelings are allowed.
FACEBOOK: https://www.facebook.com/vulvanas/
---
Fougue (Switzerland) 
Monday April 10, 20:00 – 20:45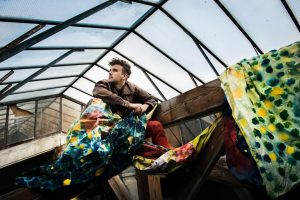 The Swiss singer, Florian Berger, alias Fougue, made himself a name with his jazz piano improvisations and his remarkably soulful voice. His compositions reflect those of Ray Charles and are filled with an energy akin to Tina Turner and the Blues Brothers. Following his involvement in the "Blues Brothers Revival Band" and his last solo project "Mister Go", the singer-songwriter re-enters the stage as Fougue. He presents pop at its finest; gospel harmonies merging with jazz compositions along with energetic Rythm 'n' Blues. Fougue's contageous music sweeps up and exhilerates his audiences.
WEBSITE: http://fouguemusic.com/
FACEBOOK: http://facebook.com/fouguemusic/
YOUTUBE: https://www.youtube.com/user/fougueofficial
---
Paraden (Sweden)
Tuesday April 11, 20:00 – 21:15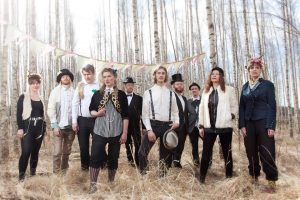 Paraden is a nine strong orchestra that was formed in the Swedish forests. The band members dreamed of a reggae band that wouldn't be ruled by greed, and few brief phone calls later Paraden was born. While the number of band members has varied through out the years, all members that make up the band today have played together on prior occasions.
FACEBOOK: https://www.facebook.com/bandetparaden/
YOUTUBE: https://www.youtube.com/channel/UC0PgEheAozsTp7hNoTx3hQg
SPOTIY: https://open.spotify.com/album/0LqMLFGD9vMIo3EIis5I5h
SOUNDCLOUD: https://soundcloud.com/paradenland
---
Bellaroush (Sweden)
Tuesday April 11, 21:30 – 22:45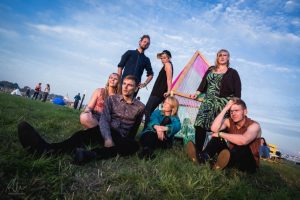 "Swedish melancholic back-beat with an edge of electronica and hip-hop."
2016 has been Bellaroush's most intense year so far. The year started with their second tour in India and was followed by an extensive tour through Germany, Netherlands, Scandinavia, Spain and Portugal. The single "Sun Goes Down", featured by Promoe from Looptroop rockers, reached 250 000 streams. Bellaroush was also called "Sweden's most gender equal band" when they performed at Öland roots festival 2016. New material has been recorded and a single produced by Anders Lagerfors [Pale Honey etc] was premiered on national Australian radio Triple J and German NDR in October. The music video for Insecticides was premiered by Gaffa magazine in January.
Website: http://www.bellaroush.com/
Facebook: https://www.facebook.com/bellaroush/
Spotify: https://open.spotify.com/artist/4lq0Fbo7f19B1d1ldW8JpI
Soundcloud: http://soundcloud.com/bellaroush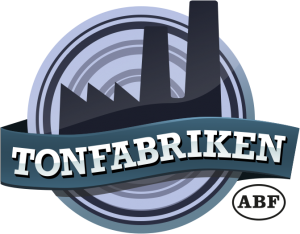 ---
Street Poets Inc. (Los Angeles, California)
Wednesday April 12, 19:00 – 21:00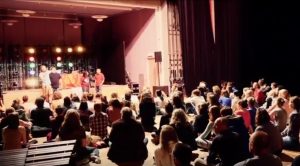 In the evening of Wednesday 12th April, Frank, Art and Jaynese will be hosting the very special and much loved Open-Mic Night, followed by a 2-hour dance party with tunes masterfully provided by DJ Art. This is not an evening not to be missed!
Bring your instruments, creativity and courage, and use this opportunity to share your gifts, passion or laughs. Come and have fun at the IF/Street Poets open-mic night!
WEBSITE: http://streetpoetsinc.com
FACEBOOK: https://www.facebook.com/StreetPoetsInc/
YOUTUBE: https://www.youtube.com/watch?v=8i-aI392pPM
---
Soma Age (Netherlands)
Thursday April 13, 21:15 – 22:15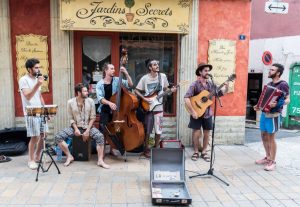 Soma age is a musical and human adventure, which started in 2010 when Gralex (Guitar, Rap), Fiv's (Drums), Pit's (Guitar, Vocals), Eyal (Percussions) and Baltniks (Keyboards, Rap) first met in Versailles.
From the good old days of high school to Maastricht five years later, where Mateusz (Bass) joined the band and where they release their first EP, a strong friendship was built.
The band evolved and grew not only around music, but also around travelling and community living. This special relationship expresses itself on stage where the spontaneity and the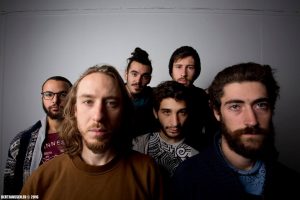 connection with the public result from a shared
experience in street performances and improvisation. A Soma Age concert is a journey in which one might dance or dream, shout or laugh, but will never fall asleep. It's a different world from one song to another, with rap, choirs, hazy waves, african drumming, funky groove and psychedelic trance.
FACEBOOK: https://www.facebook.com/soma.age.music/
YOUTUBE: https://www.youtube.com/channel/UC6jDxl74FHjCjYuGPQmyRrw
SOUNDCLOUD: https://soundcloud.com/soma-age
---
Mandragora (Catalunya, Spain)
Thursday April 13, 20:00 – 21:00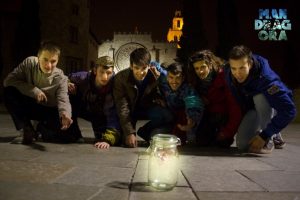 Mandràgora is a band from Sant Cugat, Spain, with a musical style that aligns with both Catalonian's cultural roots and more traditional reggae. Their goal is to make the audience vibe with their energetic live performances. The band is constantly challenging itself, and its musicians are always modernizing their style. Mandragora is a music project formed by a group of eight young musicians that are hungry to eat up the world.
FACEBOOK: https://www.facebook.com/Mandràgora-Reggae-213733928771724/
YOUTUBE: https://www.youtube.com/channel/UCO6YcSdpXHQnwlDC08TAmw
SOUNDCLOUD: https://soundcloud.com/mandr-gora-reggae