Next to organising the schedules for the flow of the day in our program we also bring in arts and culture for the evenings. These are our beautiful artists.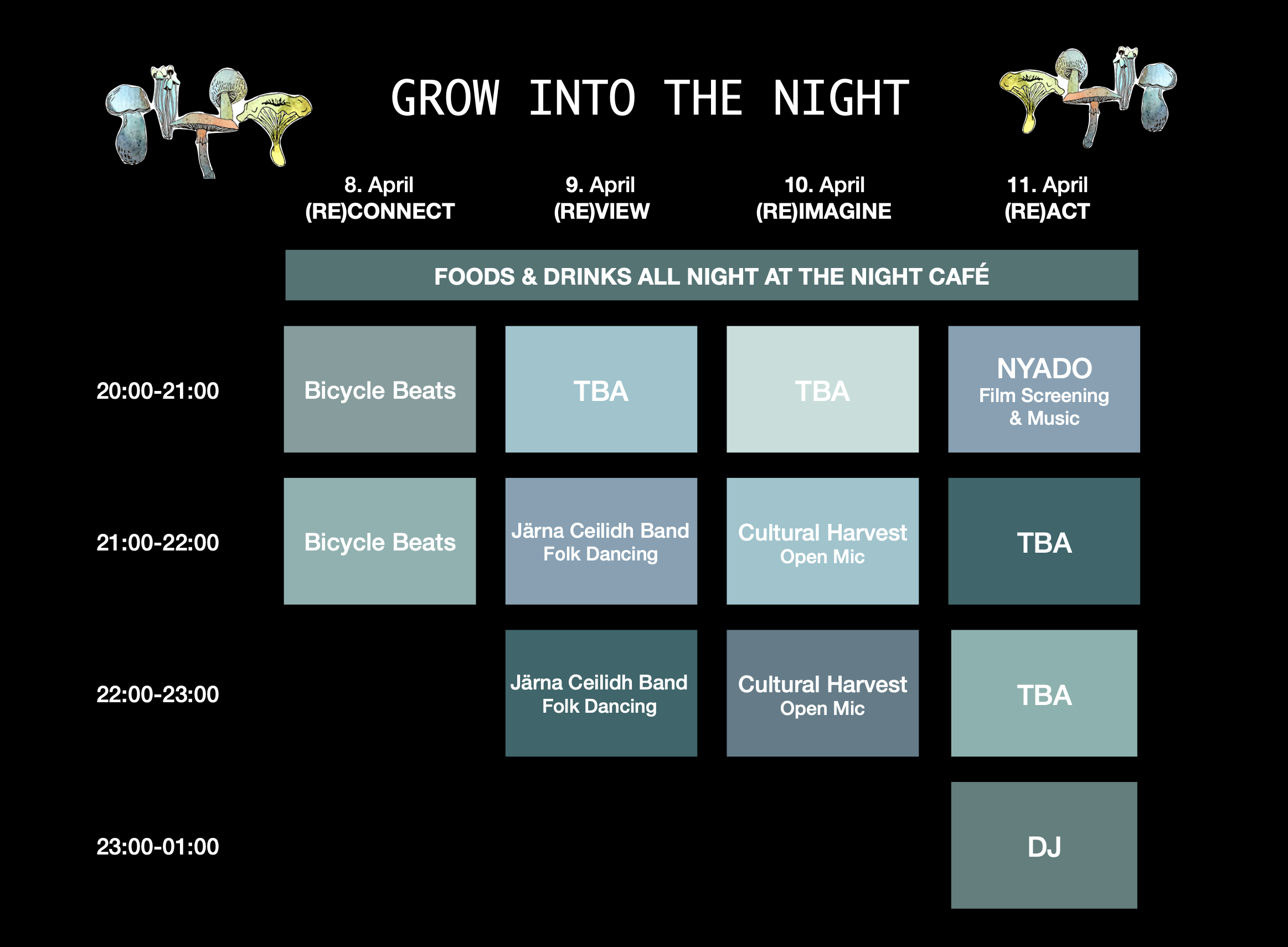 BICYCLE BEAT SWEDEN
This band was born in 2014 on the streets of Stockholm. They play improvised house, hip hop, afro-beat, jazz and balkan on Bicycles, Baritone sax and Alto sax.

Their quest is "to inspire, lift and connect humanity with funky grooves, raw energy a lots of fun." We are delighted to let them nourish you with their amazing and creative sounds.
On April 8th (RE)Connect Bicycle Beat will be kicking off the first evening before the IF starts, allowing us to meet old and new faces.
_________________________________________________________________________________
Järna Ceilidh Band (Emma & Daniel Reid)
Emma and Daniel Reid, are locals from Järna and they will be playing modern folkmusic for us to dance to.
On April 9th - (RE)VIEW the beautiful couple will be sharing joyful music to a folk dance evening, that will be hosted by us.
_________________________________________________________________________________
 

NYADO
What happens if you take a few artists obsessed with innovation, you show them incredible initiatives and inspiring pioneers doing mind blowing things in the world that are shaping the new face of human society and the planet and then you mix it all together? Either they change jobs and they become startuppers themselves, or.. they combine their storytelling skills with the visions of these projects to spread the word and to boost these projects with the power of social movements and action campaigns.
This is the story of NYADO: inspired by the vision behind changemaker Marco Attisani and Watly - his water-cleaning solar-powered computer - Edoardo Segato and Idan Abrahamson, two artists from Italy and Israel had a crazy idea that would bring them very far from home, involving several partners all over the world and creating an entirely new way of bringing about impact using art. Their concept allowed them to feature not just Watly but also other projects and people involved in sustainability and social innovation. They realised that what they've created wasn't just a song or a music video, it wasn't a film or a documentary and definitely not an advertisement or a marketing campaign. They were storytelling innovation in a radically new way, using the languages that were closer to the mass - pop music, special effects, iconic visuals - to create spectacular content designed for them, for gen Z and millennials. They call this new format "music film", the most direct channel anyone could wish for to learn and get inspired about the most incredible and innovative initiatives of the 21st century, a way to get entertainment and engaging news in the same package, to dance and sing positive change instead of reading about it.
On April 11 - (RE)IMAGINE NYADO will be sharing their Short Film and Music with us. In addition to that they will talk about how Music helps imagine our future and therefor can help to step into action.
_________________________________________________________________________________
DJ MASAYA
Dj Masaya is a cocktail of global sounds mixed with a fresh blend of electronic beats. Tropical rythms like Electro-cumbia, Afro-house and Balkan sounds are his specialty. The perfect combination to dance in an eclectic global party.
On April 11 - (RE)IMAGINE DJ MASAYA will be closing the IF 2020 with his mix of musical beats.