---
---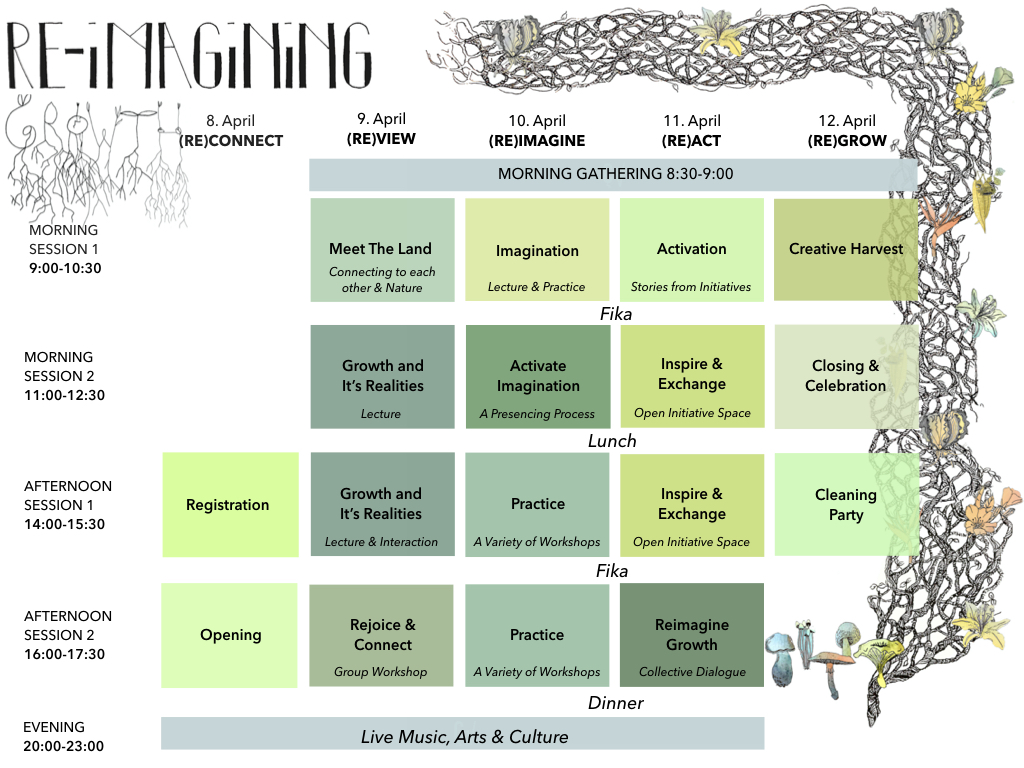 ---
---
PROGRAM DAY BY DAY - Initiative Forum 2020 Re-imagining growth
Re-connect  (April 8th) 
On the first day,  registration will open from 14:00 on. Participants will arrive, check in at registration, ask any questions, be directed toward their accomodation and tour the campus. 
Participants will settle into accomodation and start to get to know each other. 
At 17:00 there will be an "Opening performance" which will be created and performed by the YIP 12 group. The performance will take place in the Kulturhuset. For the affect of the performance the content may stay a secret until the premiere. Please prepare for a change of perspective.
At 18:30 dinner will be served, there will be activities prepared to connect with each other. After dinner there will be a live music performance. 
Re-view (April 9) 
We will meet  in the Kulturhuset for the morning gathering, where YIP12 hosts will lead a warm up, introduce the day, and share announcements. This will happen every morning throughout the forum.
The first session is called "Meet the Land" with Inte Koster. She will guide us through the landscapes of Ytterjärna and facilitate the process of connecting to the land, ourselves, and each other. 
"Growth and its realities" is a lecture series hosted by three leading experts on the topics of economy, environment, and social inequality. The speakers will outline the current vision of growth and will share wisdom and  inspiration.
After lunch, YIP12 will host an interactive question and group conversation about the topics raised by "Growth and its realities". 
The day finishes with a workshop called "Rejoice and Reconnect" hosted by the Flying Seagulls, a theatre based social enterprise that works with groups to bring joy and experience interconnection. 
Re-imagine (April 10)
"Imagination" is a lecture hosted by Rob Hopkins. Rob Hopkins works with the power of
imagination and how this can enable us to create a different future. 
Following the  theoretical lecture we will practise the theme of Imagination in a group workshop hosted by 
After Fika (the Swedish traditional coffee break) we will move into "Presencing", a  process designed to support us to see how we fit into the world and which task we would like to take on as an individual.
In the afternoon there is an opportunity to participate in two "Workshops" for one and a half hours, in various locations around the campus.  The workshops include: Permaculture, Joy and Connection; Environmental Ecology; Leadership and more! 
Re-act (April 11) 
The day begins with "Activation", as we hear stories of existing initiatives. One is taking action in the region of environment, with Fridays for Future,  and the other in social inequality.Then we will have an initiative space where any participant can propose a topic, share a project, pitch an idea, ask a question, start an activity.  We encourage participants to exchange ideas and find similarities to then maybe combine individuals action taking. Afterwards YIP12 will host a group process called "World Cafe" to bring everyone together and surface the wisdom and questions regarding the experience and learning of the week. 
Re-grow (April 12) 
On our last day we will collect and reiterate all the ideas we had on the last days and make a creative artifact out of it. At last we will celebrate the forum and close it together.
---
Program 
Our program for this years Initiative Forum focuses on understanding economic systems, social inequality and the current state of our environment. With the help from our expert lecturers, we hope to visualise the connection between these three fields. In addition, there will be space for questions, interactions and workshops. We hope this will provide alternative ways to digest the morning's information.
Throughout the five days we will explore the power of imagination and community building. Our aim is to provide a healthy balance between information, finding where you fit in all of it, and stepping into action together.
Our program will also contain playful and musical evenings, providing us with a whole spectrum of experiential possibilities. Midnight snacks will also be available from wonderful Night-café!
Further information on our Lecturers and Artists will be unveiled in the upcoming weeks.
***Disclaimer***

We are a group of 25 people on a learning journey, with many destinations. Organising this conference is one of them. We are asking for your understanding, as updates may take time, and things may well change. We are, of course, giving this all we've got. If you feel called to support us in any way, feel free to e-mail us. We would love your input!
---
---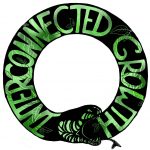 ---