YIP is a social entrepreneurship training for youth who want to create positive social change in the world.

20-40 participants aged 18 to 28, from all over the world, live and learn together for 10 months in Järna, Sweden.
The International Youth Initiative Program (YIP) is primarily concerned with strengthening the capacity of young people to take an active role in fostering positive cultural, social, environmental, and economic change that will benefit all sections of society and to eliminate social injustice, poverty, and inequality. YIP is global in scope and international in concept and sees real benefits in bringing young people together from all parts of the world to reflect on the meaning and impact of globalization. YIP pays tribute to young peoples' potential and ability as cultural creatives within local communities and society at large.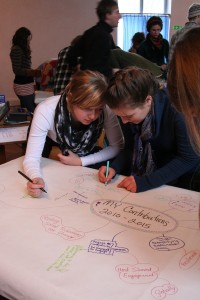 YIP is an action-oriented venture and seeks to provide young people with opportunities to recognize their potential to work with each other and with communities to enrich their lives and the lives of all those with whom they come into contact.
YIP is rooted in an understanding of comprehensive sustainable development, a commitment to social harmony, and in the importance of local solutions to local problems, with the full involvement of local communities.
The unique contribution of the YIP is to bring the creative energies of young people into direct contact with the needs and aspirations of local communities.  Through this engagement YIP will facilitate the growth and development of both the young people and the communities in which they develop their activities.
YIP is situated in Järna, Sweden (photo gallery), at Kulturcentrum Järna (formerly Rudolf Steinerseminariet) and is organized by an international group of people, supported by a global network of individuals and organizations around the world. YIP's legal body is the YIP Association.
For more information about the Youth Initiative Program, please visit www.yip.se