Workshops at Initiative Forum 2015!
---

Authentic Movement & Human World Connection
Workshops by Yifat Aharon
Authentic Movement
Authentic Movement is a simple form of self-directed movement by following inner impulses in the present moment in a special and simple way. This unique method deepens self-knowledge and strengthens the interaction with others from a different level of consciousness. It cultivates a contemplative frame of mind, clarity of perception, and movement that is personally enhancing. Authentic Movement's original practitioners integrated Jung's concept of active imagination with modern dance movement improvisation.
"For where two or three gather in my name, there am I with them"(Matthew 18, 20).
Human-World connection – Experiential Workshop
In our times we get to know ourselves better and better, each one in her/his own way, as well with the other, while a bit forgetting the source of our being. In this workshop we`ll meet and experience the basic cosmic connection between the human and the world, for this is the first impulse of our becoming in every moment in daily life.
About
"For the past 15 years I have been living and working as a transpersonal therapist with individuals and groups, having retrained, following a past career as a lawyer. I Combine and integrate Mindfulness, Judaism and Kabbala, with knowledge of spiritual-science. I have been practicing authentic movement for the past 8 years. I'm working with different methods which support developing self-knowledge in various fields of life – parenting, relationships, profession etc. – all through body-mind-spirit connections."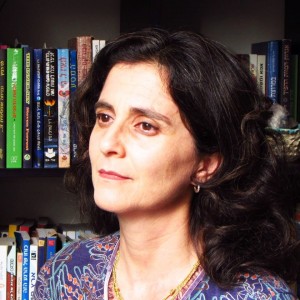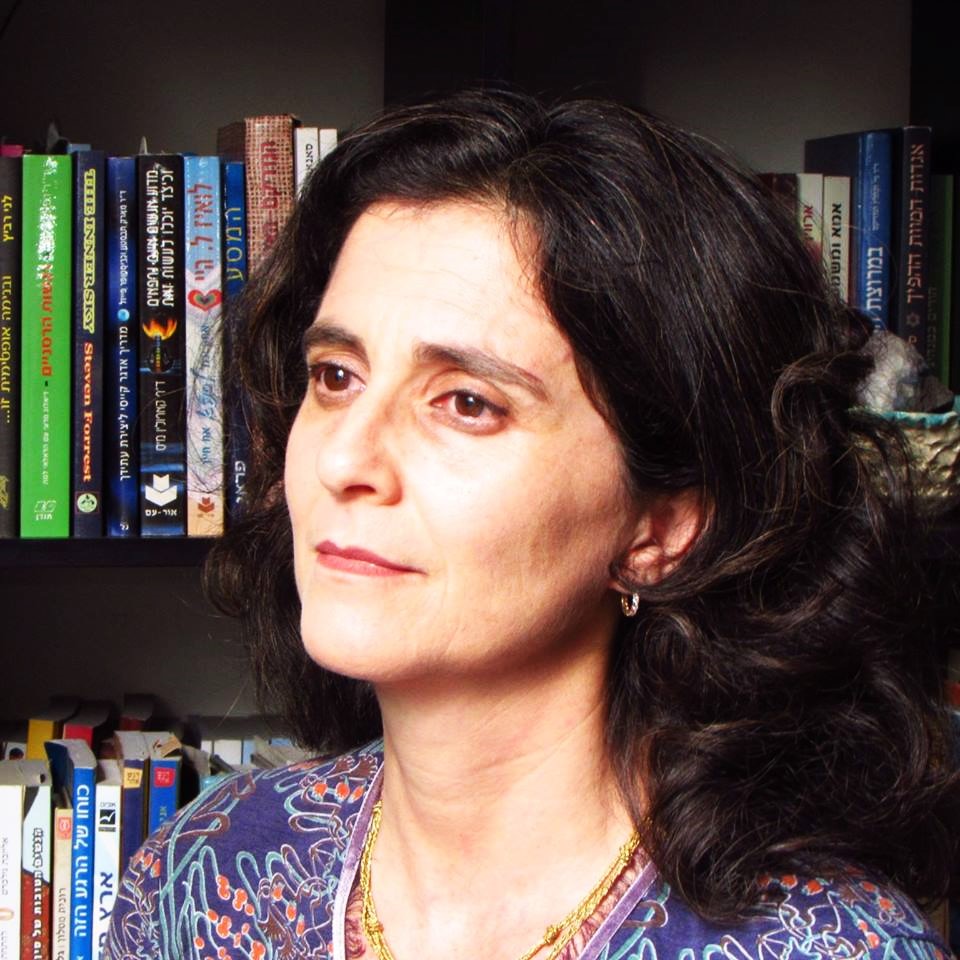 ---
The Sacred Wound and The Gift & A Gathering of Men
Workshops by Martin Cadée
The Sacred Wound and The Gift
All of us are wounded somehow at some point in our lives. For some this wounding and trying to heal dominates our life, for others it is less intrusive and more present in specific moments. The old stories tell us that our deepest wounding actually holds our greatest gifts and deepest motivation. Some traditions even speak about our 'sacred wounding'. In this workshop we will carefully and gently step face to face with our wound and explore how it can actually show us direction in our work and way of being in the world. What do you know about your wounding? What are the gifts in this? What have you learned? Where can those gifts truly serve? In our friendships, communities and work. To say it a bit more poetically: "Where does our wound meet the wound of the world?"
A Gathering of Men
More than a workshop, this will be a space for men of all ages to gather and share with each other about being and becoming a man in the 21st century. In calling this gathering, I come from a belief that redefining manhood and the masculine is one of the key tasks of our age, breaking with centuries of distorted and destructive manifestation and expression of those. This is a space for men of all generations to share about our hopes and dreams, about our wounds and struggles, about our big questions. A space to listen to each other, to be listened to, to help and support each other on this important quest.
About Martin.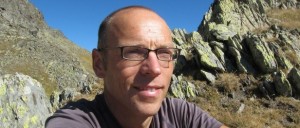 ---
Rockin' and Groovin'
Workshop By Jaynese LadyBug Poole
Jaynese LadyBug Poole of Luminary Tribe and Street Poets from Los Angeles, California teaches footwork movements from different styles, mainly House dance. She'll be sharing her experience and thoughts on dancing.
This dance workshop is open to all levels of dance, no experience is needed it's about getting loose and having fun.
About
Jaynese Ladybug Poole, 20 years old from Los Angeles, California. Member of Luminary Tribe, a collective of artists from dancers to poets and musicians. Luminary Tribe is all about giving back to community however they can and creating safe spaces for any form of expression.
Rockin & Groovin will be a chance to experience the love and unity within dance she is trying to bring to the community.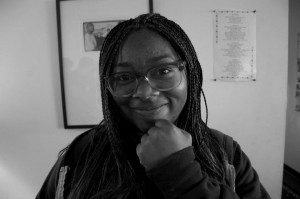 ---
The Neutral Mask 
Workshop by Roland Matthies
Discovering the state beyond the action: The Neutral Mask
The Neutral Mask doesn't have any dramatic expression and allows the actor to explore a state of pure presence in the here and now of space. With this mask the actor explores the state of neutrality that exists before the action. The Neutral Mask has no memory and no projects, it lives in the present, and allows the actor to explore the most efficient movement state: the economy of movement.
Once the actor has discovered this space, s/he becomes like "a white page, ready to be written on in the future drama" (Jacques Lecoq).
Through the Neutral Mask the actor discovers a state of physical presence, calm and openness to space. It's a challenge because in terms of movement, no-body is neutral: every-body carries themes that are profoundly expressive em-bodied in everyday movement. There is a web of "non-neutral attitudes" and physical and emotional "background noises" within each person's movement and physical presence. If observed through the reference of the Neutral State, this web appears like painting/markings on a white sheet. They are "dramatic" in the etymological sense.
We will be working with carefully crafted leather masks. The masks have different sizes and fits all – each mask is unique.
About 
Roland Matthies is an actor and has been teaching theatre in drama schools all over Europe. He studied with Etienne Decroux at the École Internationale de Théâtre Jacques Lecoq in Paris. He also directs plays with several companies – lately his interpretation of Harrowers Knives in Hens with the company Le Mercredi Bleu could be seen in Bremen/Germany. In August 2014 he was a fellow of the Foundation Ingmar Bergman Estate on Fårö, Sweden for the staging of Sacrifice, a performance inspired by Andrej Tarkowski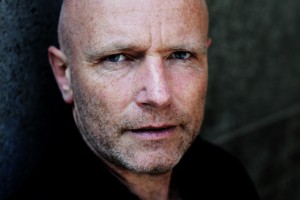 ---
Archetypes of  Humanity
Workshop by Aerin Fogel
We are not who we think we are. As a collective, we share seven archetypes that live in each of us but are expressed differently according to our individual stories and history. These archetypes are a beautiful paradox that can either make us feel separate or can be the doorway to remembering our oneness. Each workshop will focus on one of the seven archetypes, and become intimate with its many stories. We will learn how to recognize the fear behind the story and the way it keeps us living as less than what we truly are. We will also learn how to break free from the story itself and live deeply satisfying and joyful lives free of the limitations that our fears create. Learn how to recognize a fear-based pattern and make choices that support inner freedom. This workshop is for anyone wanting to cultivate a deeper relationship with their true self, and find their most authentic life path.
About
Aerin is based in Toronto, Canada where she practices astrology, karmic readings, and hands-on healing. Her music project is called Midheaven and she also writes fiction. She co-manages an organic farm share (or CSA) program. She is on the board of directors for the Silver River Metaphysical Institute, an alternative education institute integrated with progressive social and economic systems. Though these might sound like a lot of different things, they really all come from the same impulse. They are the path of healing, inspiration, and creating a sustainable collective from the inside out.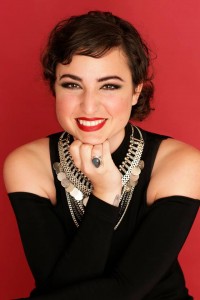 ---
Language of Scars (Healing Words)
Workshop by Art Quiros & Francisco Escamilla
Join us for a writing workshop where we explore the power of personal and communal healing through the language of poetry and the practice of storytelling.
About
Art Quiros, Youth Outreach Coordinator & Recording Studio Supervisor
Arturo was born and raised in the city of  Los Angeles. After falling in love with Hip Hop,  Arturo "Art" Quiros also fell in love with rhyming and free styling. His lyrics often described being raised by hardworking low income parents who migrated from Central America striving for a better life. Seeking initiation but lacking the presence of mentors in his youth, Art looked to the streets to fill the voids that felt empty in his life at an early age. Art began to walk a path often glorified by the media, that continued to influence and fuel fear and violence in his community. Losing peers and friends in his upbringing, Art was escorted down a path often described as the school to prison pipeline. Through his poetry and music, Art gives voice to a story, similar to countless individuals, who like him fell through the cracks of the flawed public school and justice system. Learning to walk with what he carries, Art found ways to utilize his love for words to share his story and to invite folks to do the same.
Frank Escamilla, Teaching Artist
Known in the streets and open-mic venues of Los Angeles as "Bus Stop Prophet" for his propensity to bust rhymes in unexpected places, Frank has been deeply engaged in creative peace-making work for over 15 years, both here in LA, and as far away as South Africa.  A gifted poet, spoken word-artist, open-mic host, community-builder and teacher, Frank first connected with Street Poets in 2013 and has been working with us ever since.   In his capacity as an SP teaching artist, Frank facilitates writing workshops for everyone from Compton elementary school 5th graders to formerly incarcerated adults at Homeboy Industries.  In any setting, his passion for the healing power of poetry is truly infectious.
Street Poets Inc.
Street Poets Inc., is a non-propit organization that uses poetry and a tool for transformation. Street Poets Inc' mission is to inspire, empower and create.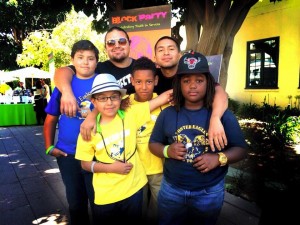 ---
Between Law and Chaos – an Expression of Meaning
Workshop by Laura Summer
Have you ever wondered what is art? Is it anything? If you spill a bottle of ketshup, is it art? If you take a picture of the spill, is that art?  Does art have meaning? Should it? Is meaning something individual or universal? What about beauty? What is that?
Using paint, pencil and collage we will experience the creative space between order and disorder. We will move line, color and material. We will transform substance.  We will approach the above questions but we will not answer them.
About
Laura Summer is co-founder of Free Columbia, an arts initiative that includes a full time program based on the fundamentals of painting as they come to life through spiritual science. It is completely grass roots donation supported and has no set tuitions. She has been working with questions of color and contemporary art for 25 years. Her work, to be found in private collections in the US and Europe, has been exhibited at the National Museum of Catholic Art and History in New York City and at the Sekem Community in Egypt. She has published five books. She founded two temporary alternative exhibition spaces in Hudson NY, 345 Collaborative Gallery and Raising Matter (this is not a gallery).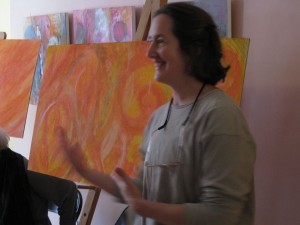 ---
Creating writing.
Workshop by Dijle Salim from Loesje
Loesje is both a world wide collective of people that wants to make the world a more positive, creative place and a girl from the Netherlands. The local Loesje groups write and spread posters signed by the girl Loesje with texts about everything that happens in society. Loesje-texts are mostly positive and funny and at the same time critical, wanting to stimulate peoplpe to see things from a new perspective and take action in their own lives. Loesje-texts are not trying to tell you what to think; instead they often invite to have many different interpretations.
On Initiative Forum, Dijle Salim will host a Loesje workshop. After a variety of creative writing excersises to awaken your creativity, you will get the change to write some real Loesje posters. It's a chance you don't want to miss!
---
AMATE
Workshop by Victoria Nieto
This is a Mexican artisan way of story telling. Painted with non toxic acrylics on a special paper made from AMATE tree bark, people tell stories from their daily life as well as cultural heritage.
This is an ancient technique that doesn't require professional skills, is a good way of remembering special events from our life and also a way of keeping traditions alive.
All you need to bring is a good story and we will provide all materials.
---
Tango Argentino
Workshop by Joachim & Christiane Reich Ludwig
Tango Argentino is an fascinating dance between structure and improvisation. Every dance is a new adventure for relationship between the dancing partners, the music and the situation. To lead and to folw, trust, contact, play and nonverbal communication are themes in this dance, you also find in your life. We start with simple steps , improvisations and some effortlessly exercises for everyone , to get a taste for this dance.
Sword and stick fighting. Theatre sword and stick fighting is an art, where you learn skills to create a fight with a partner. It's a game with and against your partner. Borders, respect, power, technic skills and slapstick are elements, with which you can create thrilling or funny choreographies.
Watch this for an impression!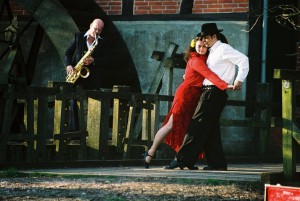 ---
Brazilian Jiu Jitsu
Workshop by Ariel Striim
This workshop is an introduction to the sport, martial art and self-defense method of Brazilian Jiu Jitsu. This activity increases your own body awarenes, teaching you how to use it as one unit; its also good to improve your mental strength, with the power of will on top of it, and the quote "never-give-up" as motto. Stress-relief, self-confidence and useful self-defense techniques are included on the BJJ list of benefits for your life. And last but not less important, you will be having a great time with a lot of great people! Come join us on the workshops!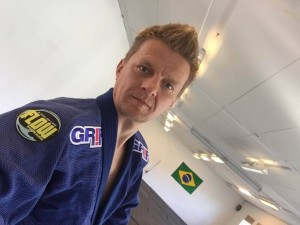 ---
Playful Contact
Workshop by Pablo Padilla
This workshop in Contact Improvisation focuses on how to use movement and dance to create a playful connection within ourselves and with others. I will support you in the process that starts in a warm-up inspired by capoeira, creative dance and taichi leading into more free exploring, improvisation and ending in the integration of the experience together.
Please bring comfortable clothes for dancing and, if possible, kneepads!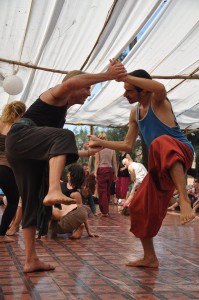 ---
Weeds, Greens, Veggies and Sprouts
Workshop by Chris from Nibble
Mad farmer Chris at Nibble Farm invites you to burn your RyanAir tickets, bury your cheap Chinese "raw food " powders and come on a walk-talk-about on anything that comes up. It will mostly be on foods in and around our fields and the medicinal value within them. And maybe we will share a real and "original" Raw Food Smoothie to make your socks roll up and down!
---
Explore with clay
Workshop with Sandra Falkeborn
What do you feel? Let your fingertips guide you in shaping the clay. In this workshop you will get a chance to explore your own process instead of making a product. The clay is directly from the ground not far from Järna (and has been clean from small rocks) and all you need is your hands.